Environmental Love of Small Groups and Institutions Gives a Big Message – Chief Minister Shri Chouhan
Arjun and Saptaparni Saplings Planted in Smart Garden
Bhopal, February 06.Chief Minister Shri Shivraj Singh Chouhan along with Shri Gaurav Jain, Shri Akash Shravan and Sushri Rekha Thakur of Muskaan Social Welfare Society planted Arjun and Saptaparni saplings in Smart Udyan today. Chief Minister Shri Chouhan said that the work of planting saplings on behalf of small groups and institutions gives a big message. Society also has to be concerned about the environment. Today, the members of Muskaan Society have come to plant saplings, their efforts are commendable.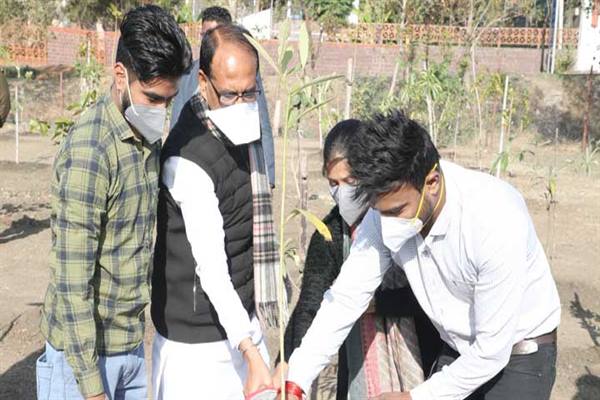 Chief Minister Shri Chouhan also got information about the activities of Muskaan Social Welfare Society. The members of the organisation told that along with voluntary blood donation, the organisation also conducts health check-up camps from time to time. So far more than 20 thousand people have been motivated to donate blood. Along with planting saplings, the organization is doing work related to health, education and sanitation in the slum colonies.
Significance of Arjun and Saptaparni
Arjun tree is a medicinal tree, the use of its bark and juice is beneficial in diseases like heart and tuberculosis. Arjun tree is also found in abundance in Madhya Pradesh. Saptaparni plant is an evergreen medicinal tree, which has importance in Ayurveda from the point of view of treatment.
Hindustan Samvad
follow hindusthan samvad on :